Northern & Vermont Raised
2019 season has begun.Email or call to get on our list.
Our queen bees for sale are available June 16th – August
Cost of Queen Bees
1-10   queens  $30 each + shipping
11+ queens $27.50 each + shipping
Payment must be made prior to shipping.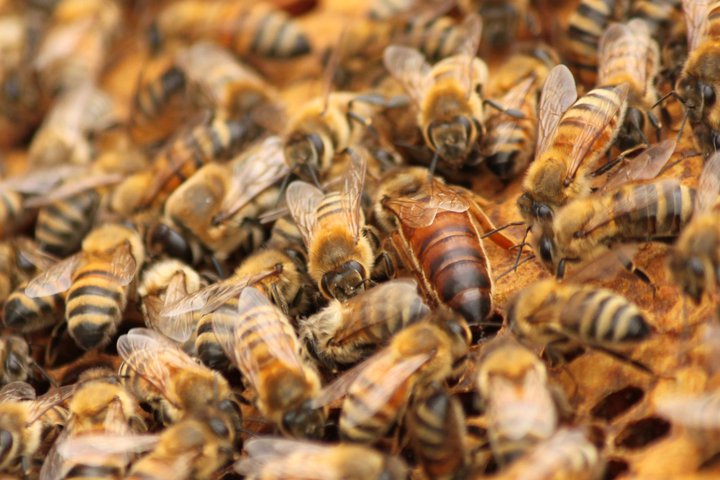 Photo by Kristinna Blanchard
1. The queens are bred from thriving survivors ( 2 winters old / best honey producers).
2. Emphasizing optimal nutrition and strength of cell builders combined with young age of grafted larva, leads to well developed virgin.
3. Emphasizing density and diversity of mature drones within mating distance leads to well mated queens.
4. All queens have 16 days in mating nucs except the first catch, which are overwintered.
5. We evaluate the brood viability, laying rate, and health of the queen bee.
We ship queens once per week.  A Verbal request or an emailed request will put you on our list as first come first served.
We except check or cash. We will provide Paypal as an option to make payments. This will require an additional 3% fee. You can use this option if you would like to pay with a credit card as well.
— —
Ordering
Please email tmcfarline2@yahoo.com with your order,address and phone number and we'll get back to you. Orders are processed in the order we receive them so we may not always be able to send your queens when you want them. Please get on the list as early as possible.
Please note: We do not take orders for queens online. You have to email or call us. 
Mail all payments to:
Tim Mcfarline
833 Park Hill Road
Benson, VT 05743
Refund of Queen Payment
If your queens are delayed due to the post office, we will file a claim and get reimbursement for your shipping.If the delay is in excess of four days, then we will get the entire cost of your queens reimbursed to you. Mcfarline's Apiary will provide introduction instructions for your queens.
We are not liable for damage to your queen post introduction or for failure to properly introduce.
Shipping
Queens are shipped with intention of getting them to you the next day, to be held at your Post Office for pick up. Shipping will be via USPS Express Flat Rate envelopes for 1-24 queens.$27.00.
You do have the cheaper option of shipping priority, but this has no guarantee and is not recommended by us.If you use this shipping method we hold no responsibility for unreceived queens or the timing that you receive them. We have had them in the mail for over 10 days!!!$9.00(includes insurance)
For 24+ queens we will package in an Express box.
For orders in Vermont, queens are shipped Priority flat rate envelopes (which arrives next day).$9.00(includes insurance)
Shipping Monday-Wednesday, only one shipment per week.